Paperback
128 Pages
Interior black and white
Includes Glossary
Includes Hawaiian language pronunciation guide
Do you love to draw but always run out of ideas?
Are you planning a trip to the islands and want to learn before you get here?
This book can help!
Draw and Color While You Learn About Hawaii
Every page has a drawing idea or creative start for you to finish, or a simple line drawing you can color in and add to. You'll also find lots of information about Hawaii's unique culture–food, animals, people, and more.
But I don't know how to draw…
Not to worry! The book also includes drawing tips to help you. But there are no rules. It's your book to personalize.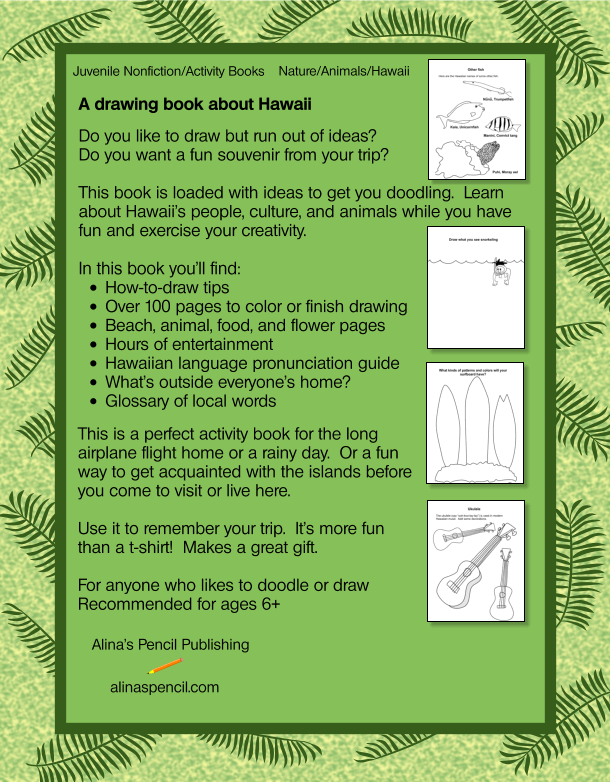 Sample Pages from The Hawaii Doodle Book
Pages include:
Surf's Up: who or what is surfing the waves?
Color the beach scene
What's on your plate lunch?
Draw the volcano erupting
Color the monk seals and add more
Makes a great souvenir or gift

Use this to get your kids acquainted with the islands before your trip.
Pair it with colored pencils for a great gift that will keep the kids occupied for hours.
Take it on a car ride.
Take it with you on the plane.
Get it as a souvenir of your trip. It's more fun than a t-shirt
Great for someone in the hospital, or sick. Helps pass the time in a fun way.

Not Just for Kids
Sure, kids will love this book. But adults find it's a great way to be creative, learn about Hawaii, and have fun, too. Haven't you wanted to design your own surfboard or bikini? Now you can!
Recommended for anyone who loves to doodle or draw
Recommended for ages 6 and up