Front Cover: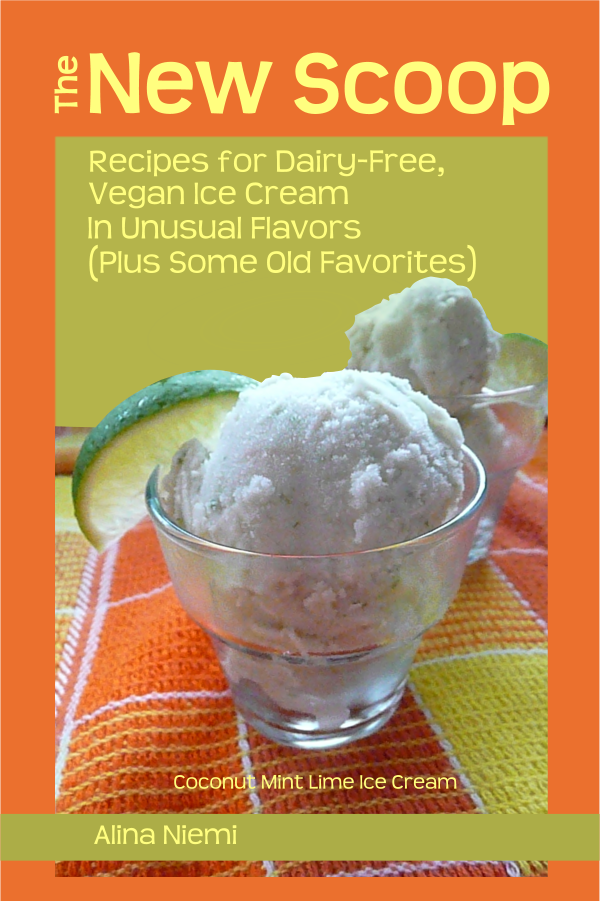 The New Scoop: Recipes for Dairy-Free, Vegan Ice Cream in Unusual Flavors (Plus Some Old Favorites) by Alina Niemi
See Table of Contents from The New Scoop
Are you avoiding dairy products
because of health, environmental, or philosophical reasons? You don't have to pay expensive prices for mediocre vegan ice creams.
You can make your own ice cream, sherbet, sorbet, and frozen yogurt
easily at home. You don't even need an ice cream machine, although I highly recommend getting one. The texture is hugely improved, and it's less work on your part. You can even get a workout if you buy a hand-cranked machine!
(I have a Cuisinart ICE-21 Frozen Yogurt-Ice Cream & Sorbet Maker
and LOVE it.)
Find recipes for
Old Favorites, such as:
Pumpkin and Spice Ice Cream
Chocolate Ice Cream
Mint Chocolate Chip Ice Cream
But you will also get a whole range of more unusual flavors to try, including tropical fruit flavors:
Pineapple Mint Sherbet (a tester favorite)
Mango Frozen Yogurt
Coconut Mint Lime Ice Cream
There are also flavors from Asia, like:
Korean Pear Ice Cream
Azuki Ice Cream
Lychee Ice Cream
Banana Lassi Frozen Yogurt
Green Tea Ice Cream
And if you are even more adventurous, try some unusual ice cream flavors, from all over the world, such as:
Strawberry Rose Ice Cream
Tomato Basil Ice Cream
Prune Ice Cream
Blackberry Apple Frozen Yogurt
Carrot Apple Coconut Curry Ice Cream
Here is a video book trailer with photos of some of the flavors. Try not to drool on your keyboard, okay?
Most of the ice cream recipes are soy based, although some are coconut or nut based. Sherbets use any kind of milk, including nut, grain, or seed milks, such as soy, rice, oat, or hemp. Sorbets use no milks at all.
Be the boss of your ice cream!
Back Cover:
See some recipes from the book.
---
If you are interested in getting an ice cream machine, I highly recommend this one:

Cuisinart ICE-21 Frozen Yogurt-Ice Cream & Sorbet Maker

It is electric and works with a frozen canister that you can keep in your freezer, so you can make ice cream whenever you feel like it. You plug it in and let it do the work.
---
Reader Reviews:
I just made the fresh guava ice cream recipe out of my friend Alina's new vegan ice cream cookbook. I used my Mom's guavas and it came out wonderfully smooth and creamy. The fresh guava is subtle and fragrant. I am actually not missing the heavy cream I would usually be using. The recipes run the gamut from classic favorites (Mint Chocolate Chip) to intriguing, mind-bending combinations (Carrot Apple Coconut Curry). It is more than an ice cream cookbook. It it a passionate treatise on taking ice cream making to the level of a grand adventure. I wonder how many ice cream machines were sacrificed testing these more than 100 recipes. I will definitely be trying more soon. I have my eye on the lilikoi frozen yogurt recipe next since I have so many lilikoi right now.
-Dorothy Arriola Colby
---
Find corrections and updates on the book here:
http://alinaspencil.com/books/updates-and-corrections-for-the-new-scoop/
Disclosure: I am affiliated to the products recommended on this site.