Are you a dumpster diver? Love to turn trash to treasure? Delight in searching for curbside finds?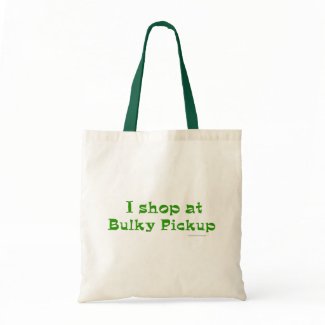 I Shop at Bulky Pickup Tote Bag (Green)
by
alinaspencil
Design your own
tote bags
on zazzle.com
All you fans of reduce, reuse, and recycle know that shopping at Bulky Pickup (aka curbside bulky item garbage pick up) is the best deal in town. Besides, it's good for the environment. They're open day and night. They're not big on customer service, but the price can't be beat!
If one person's trash is YOUR treasure, this design is the perfect way to show off your love of "bargain hunting." It says, "I shop at Bulky Pickup" in a green font.
Use it as a greener replacement for grocery bags. No more slashes in your plastic bags from sharp corners on boxed grocery items. I prefer this style bag to the "grocery bag" totes because these handles are longer, making it easy to put over your shoulder.
This cotton fabric is sturdy yet light. It's the perfect size to roll up and store in your car or backpack, so you can pull it out when you get to the store. Throw it in the wash if it gets dirty.
Makes a perfect gift for your dumpster diving friends or fellow Bulky Pick Up shoppers.