The right greeting card should express what you want to say. In general, I prefer cards that are humorous over those that are serious.
These cartoon dog birthday cards bring an irreverant twist to birthdays:
Inside reads: "Hope you find a nice tree."
Don't like that message? Add your own to a customizable card: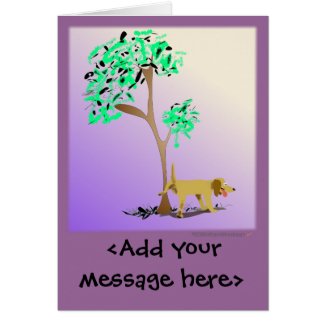 Customizable Dog Lifting Leg Card
by
alinaspencil
Shop all other
cards
at zazzle.com
Just add your message on the cover and inside. As with all customized card templates, fill in the spaces to make this card your own.
Click on either picture to go directly to my shop: zazzle.com/alinaspencil*