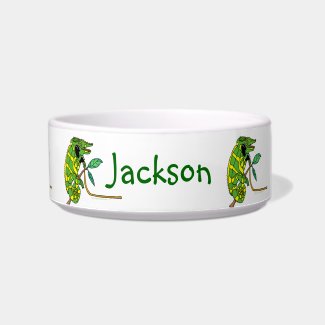 Chameleon Talking Reptile Personalized Pet Bowl
by
alinaspencil
Browse Zazzle for a different
dog bowl
.
This custom ceramic pet bowl has a green and yellow striped chameleon talking on a telephone. The cartoon reptile is repeated almost all the way around the dish.
Add your custom name in the template to personalize. A perfect reptile lover dish, or for your pet lizard.
Find other personalized pet bowls at Alina's Pencil.
Disclaimer: I am affiliated to the products recommended on this site.