What's Mothering Sunday?
Mothering Sunday is the UK's equivalent of Mother's Day. It is celebrated on the fourth Sunday in the month of Lent.
This year, 2010, it is on Sunday, March 14.
Give Mum some tropical flowers
Okay, so it's not the real thing, but it's beautiful nevertheless.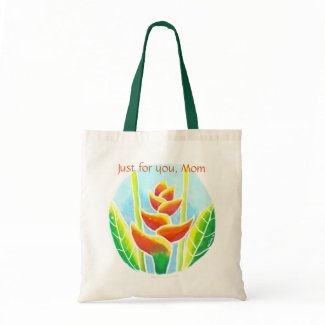 Heliconia Tropical Flower Mothers Day Bag Template
by
alinaspencil
Create a
tote bag
from zazzle.com
This customizable floral tote bag template lets you give Mum a unique gift for Mother's Day, her birthday, or just because.
This colorful batik design features a heliconia tropical flower in red, yellow, orange and green, on a blue background. There are two heliconia leaves flanking the flower.
The tote bag template is set up with a space to customize your message to Mum. Simply type in your message to replace it with your own.
This tote bag is small enough to fold up and keep in the trunk or your luggage. When you go shopping, pull it out and use it haul your goodies. Be environmentally friendly and use it for groceries, too.
It is common to see these colorful tropical flowers in flower arrangements in Hawaii. They are also common in people's yards.