Want to express your love of massage? Need a unique way to express appreciation for your therapist or bodyworker?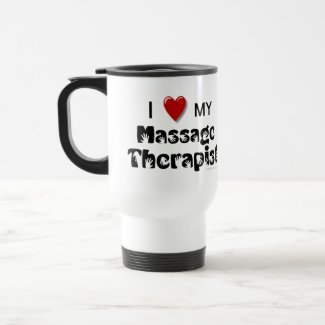 I Love My Massage Therapist Stainless Travel Mug
by
alinaspencil
design your own coffee mug
at zazzle.com
This mug says, "I love my Massage Therapist" in a fun font, with hands forming part of the letters, and a heart instead of the word love.
The stainless steel mug keeps coffee or tea hot or cold, and the spill proof lid makes it ideal for travel or work.
Good for anyone with massage therapy training or training in therapy massage or bodywork: Thai massage, shiatsu, Chinese massage, Oriental massage, Swedish massage, reflexology, spa massage, prenatal massage, sports massage, foot massage, head massage, aromatherapy massage, medical massage, relaxation massage, equine massage, canine massage, deep tissue massage, back massage, neck massage, body massage, and for licensed massage therapists or certified massage therapists.
Makes a great gift for your favorite massage therapists. Show them how much you appreciate their hard work.