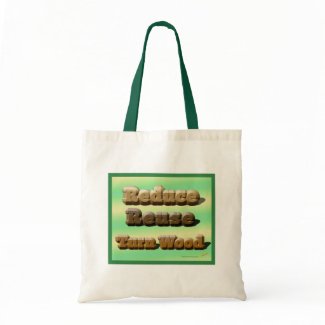 Reduce, Reuse, Turn Wood Woodturning Tote Bag
by
alinaspencil
Design your own
photo tote bag
from zazzle
Support the environment and express your love for woodturning. Reduce, Reuse, Recycle wood and keep it out of landfills.
This funny design with a carved wood look makes a great gift for a woodturner or woodworker. It says, "Reduce, Reuse, Turn Wood" in letters that look like they are carved wood. The background is various stripes of green and yellow.
Use this tote as a greener replacement for grocery bags. No more slashes in your plastic bags from sharp corners on boxed grocery items. I prefer this style bag to the "grocery bag" totes because these handles are longer, making it easy to put over your shoulder.
This cotton fabric is sturdy yet light. It's the perfect size to roll up and store in your car or backpack, so you can pull it out when you get to the store. Throw it in the wash if it gets dirty.