Buying wood to do your projects can be very expensive. If you're like many of us, you keep your eye out for discarded tree trunks, lumber, and old furniture by the side of the road.
This funny bumper sticker can serve as a warning to anyone behind you that you are a serious scavenger.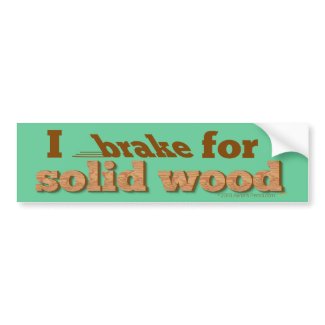 I Brake for Solid Wood Bumper Sticker (green)
by
alinaspencil
Browse more
I brake for solid wood Bumper Stickers
It reads, "I brake for solid wood." The words "solid wood" look like they are carved from wood.
Makes a fun gift for that woodturner, woodworker, or wood lover that gets woodworking supplies free and locally!
Want a different background color? Click "customize." This will take you to the Zazzle design tool. Click on "colors," then "background," then choose a color from the color swatches.
Don't like what you see? Repeat the process to get a color you like, or hit "revert" at the bottom.