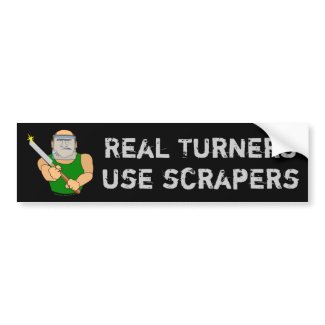 Real Turners Use Scraper Funny Woodturning Cartoon
by
alinaspencil
See more
Woodturning Bumper Stickers
This burly cartoon guy is holding a chisel and scowling. The bumper sticker says, "Real turners use scrapers" in a grungy font.
This is a great way to show off your love of woodturning. Makes a great gift for other turners, too.
Click the customize button to change the font, message, or background color.
This design is also available on mugs, hats, apparel, aprons, smart phone cases, and more. Find other wood turning gift ideas and designs, too.