If you've ever heard a zurna live, you'd remember it. It sounds a bit like a duck with a head cold, singing on loudspeakers!
This traditional Balkan instrument has its fans…as well as its opponents. It has been used in Turkish military music and still makes an appearance in weddings and ceremonies, usually accompanied by a bass drum. Balkan music lovers and folk dancers know this instrument well.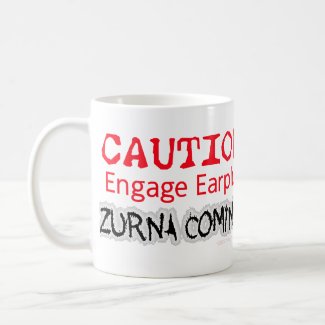 Zurna Mug
by
alinaspencil
Create
commuter mugs
online at zazzle.com
This funny design reads, " engage earplugs. Zurna coming!" with an image of a zurna on the other side.
It makes a great gift for zurna players and for those who prefer their instruments a bit more on the subtle side.