Mothering Sunday is the equivalent to the U.S. Mother's Day holiday. This year it's on March 14, 2010. Here are a few gift ideas: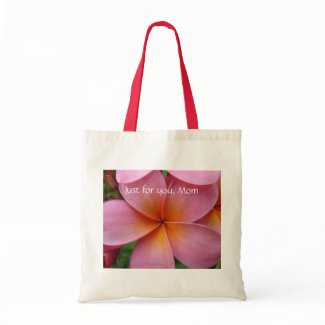 Pink Plumeria Tote
by
alinaspencil
Design
tote bags
on Zazzle
Wish you could give Mom some tropical flowers for Mother's Day? Give her a taste of the tropics with this tropical pink plumeria or frangipani tote bag.
A pink plumeria, fragrant Hawaiian flower often found in a lei, adorns this customizable bag.
Customize it with your own message to create a personalized gift for mothers or mothers in law. The tote bag template allows you to simply replace the sample message with your own.
The sample message reads, "Just for you, Mom"
The durable cotton canvas is strong enough to hold heavy groceries without tearing. Don't you hate it when box corners slice through plastic bags?
She can use it as a tote bag for the gym or for crafts or scrapbooking. It folds up small to store in a car or bag, and can be whipped out to store all the goodies she buys when she goes shopping.
Give this useful tote bag for a gift Mom will use again and again.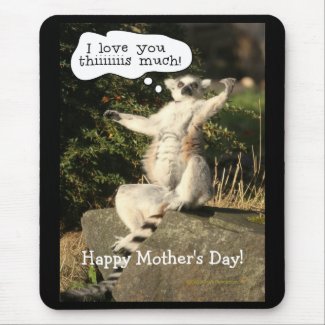 Lemur Love You This Much Mother's Day Mousepad
by
alinaspencil
Make your own mouse pads
on zazzle.com
Express your love for mother or your mother in law with this funny Mother's Day mousepad or mouse mat.
It features a picture of a ring-tailed lemur with its arms spread wide, saying, "I love you this much," on a black background. Near the bottom it reads, "Happy Mother's Day!"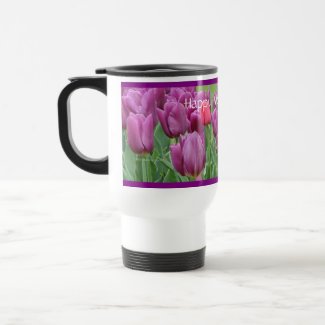 Purple Tulips Flower Art Mother's Day Travel Mug
by
alinaspencil
Get
mugs
at zazzle
Expess your appreciation for mom this mother's day with this colorful tulip travel mug.
This stainless steel travel mug features a gorgeous picture of purple tulips, with a few pops of red, in a plain purple border. Beautiful flower art in usable form! It says, "Happy Mother's Day" in white.
These stainless steel travel mugs keep coffee, tea, or drinks hot or cold. The spill proof lid means they are perfect for on the go.
Makes a nice gift for flower lovers, tulip lovers or gardeners, or a mom who loves the color purple. Don't forget your mother in law!
Browse more gift ideas and cards