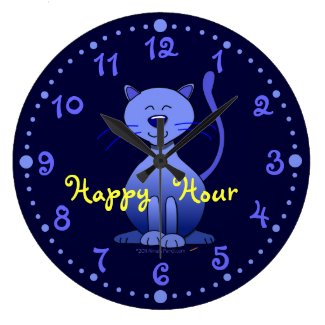 Happy Hour Cute Smiling Blue Cat Clock w/ Minutes
by
alinaspencil
Browse additional
Wall Clocks
at Zazzle
Should you open your own Zazzle store?
Every now and then someone will find out about my store, check it out, think it's cool, and ask about opening a store themselves. They figure they've got a bunch of cartoons they've drawn, or photographs, so why not put them on some products, open a store, and make a bunch of money?
Sounds great, doesn't it? But before you get all excited, out of four people I've told what I'm going to tell you, only one went ahead and did all the hard work. And then she got discouraged when she hit a couple road blocks and had no sales. I think by now she has given up, too.
Because the truth of the matter is, there is a lot of work to be done, things to learn, and details that need to be tended to. There is ongoing shop maintenance, keyword research, learning to write descriptions and copy that helps sell your products.
You need to keep up
Zazzle is constantly adding new products. That means you'll need to add any old designs you already have to the new products, in addition to any new designs. And yes, you'll need to keep adding new designs and growing your store. Would you go back to a store that had 10 shirts, in the same designs, and never got anything new?
All play and no work
Having a store on Zazzle is work. Period. Sure, it's fun work. But it's still work, and a lot of it. Many of us shopkeepers spend all our free time, often working into the wee hours of the night, to get that "easy money." There are no shortcuts.
Funny Counting Gorilla Math Pink itouch Skin Ipod Touch 4g Case
by
alinaspencil
Custom design iPhone cases
online at Zazzle.
Persistence Pays
But if you have good creative skills, think you have something different to offer, and are willing to work hard, learn constantly, and persist, you can find success eventually. So here are some specific tips if you are considering opening your own store.
Why you?
The first thing to consider is why you want to have a store. If it's just to make a couple of products so you can wear your own art, great. Go for it. But you're not guaranteed any sales except your own, and possibly those to your family and friends.
If, on the other hand, you want to earn money, you need to think in terms of what you will offer, what makes your stuff different from the billions (yes, thousands of millions) of products already on Zazzle for sale, and who your customers will be.
Who is your target audience?
Knowing who you are selling to is a huge part of the picture, because you will need to market constantly, so that people find out about your products. And eventually, they may buy them. But they will need to see them, first.
So if you don't know who is looking for your stuff, you won't be able to find them. Or if you don't have what they are looking for, they won't want to buy your products anyway.
What are people looking for?
Do you know how to use a keyword research tool, such as the free one that Google offers? If not, you will need to learn how.
Basically, it shows how many people are searching for certain items at any time (usually in a one-month span.) For example, "damask wedding invitations."
Using a keyword tool may help you discover that people want brown and pink invitations, damask save the date invitations, and zebra wedding invitations, for example. Or damask iphone covers. You can use this information to guide your choice of products to create, or niches to fill.
Knowing your keywords will help you, because you must work them into your store name, product tags, titles, and descriptions. How will someone looking for blue and brown damask wedding invitations ever find your product if you don't call it something like that?
Become a Copywriter
Poor tags and descriptions are the number one reason shopkeepers don't have many sales. And every one of the rest of us will tell you we shudder when we see an old product of our own with pathetic tags and a sad description. Because we know how important they are, and we've learned over the months and years that it takes to be successful, how to do that more effectively.
So the trick is not that you must be great at this from the very beginning. But you must be willing to learn all you can about it, and about everything else involved, if you want to be successful. And you don't have to do it all alone.
The Community
Zazzle puts out seller newsletters that give hints for selling. They also maintain a blog and feature tutorials and explanations to help sellers.
Other shopkeepers are a fabulous source of information and help. We are a great community at Zazzle, and if you are willing to spend time regularly in the forums (I recommend every day,) you will learn more than you ever dreamed was important. You'll get ideas for ways to improve your shop. You'll find templates to help in product creation. And you'll be motivated and inspired by the success and hard work of your fellow shopkeepers.
So think about what you will sell, what those keywords will be, and what you want your store to look like. If you are selling Goth designs, your shop won't do as well with a psychedelic tie-dyed background, as it would with a black or gray one. Your cute cartoon art won't be as appealing if your shop is all just black text on a white page.
On Your Mark, Get Set
Once you've gotten an idea of what you want your shop to look like, what you are going to sell, who your audience will be, what your keywords are, then think about a name for your store. You cannot change it once you've picked it. And many names are already taken. So have a couple options in mind.
Let's jump ahead. Let's say you chose a great name for your store, got it set up to look like you want it to, and made a bunch of amazing products. You've learned about writing good copy, so your titles, tags, and product descriptions are accurate and helpful.
Now you can sit back and watch the money roll in, right? NOT!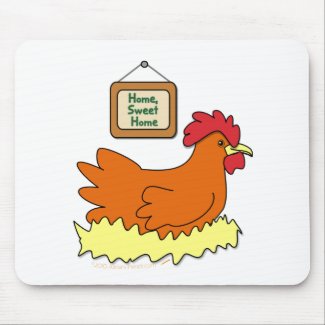 Cartoon Chicken in Nest Home Sweet Home Mousepad
by
alinaspencil
Create your own mousepad
online at Zazzle.
Spread the Word
That's where marketing comes in. I know of only one pro-seller who does not have to market much in order to get great sales. But she is the lucky one out of the tens of thousands of others, who do need to market regularly in order to see any sales.
Marketing is how people will know you have something for sale. If they don't know about it, they can't buy it. And "if you build it, they will come" doesn't necessarily work. So you need to spend time and effort marketing every design, every product, every store you have.
Get Ready, Go!
So how's all this sound? Like a picnic? Or another job? If you still think you are willing to do all the work, then you can look further into opening a shop. And if not, be glad you found out before you put all that work into it, for no reward.
But being a success at Zazzle has meant, for some shopkeepers, vacation or extra spending money, the freedom to work from home, and in some cases, being able to quit their full-time job. The only magic formula is a lot of hard work and persistence.
Got what it takes? Then roll up your sleeves, sign up for an account, and open your store. The world awaits the products of your creativity!