Now Available: A Dairy-Free, Vegan Ice Cream Recipe Book
The New Scoop: Recipes for Dairy-Free, Vegan Ice Cream in Unusual Flavors (Plus Some Old Favorites) by Alina Niemi
The New Scoop: Recipes for Dairy-Free, Vegan Ice Cream in Unusual Flavors (Plus Some Old Favorites) by Alina Niemi
Publication Date: Nov 18 2011
ISBN: 9781937371005
Page Count: 224
Binding Type: US Trade Paper
Trim Size: 6″ x 9″
Language: English
Color: Black and White
Related Categories: Cooking / Vegetarian
Front Cover: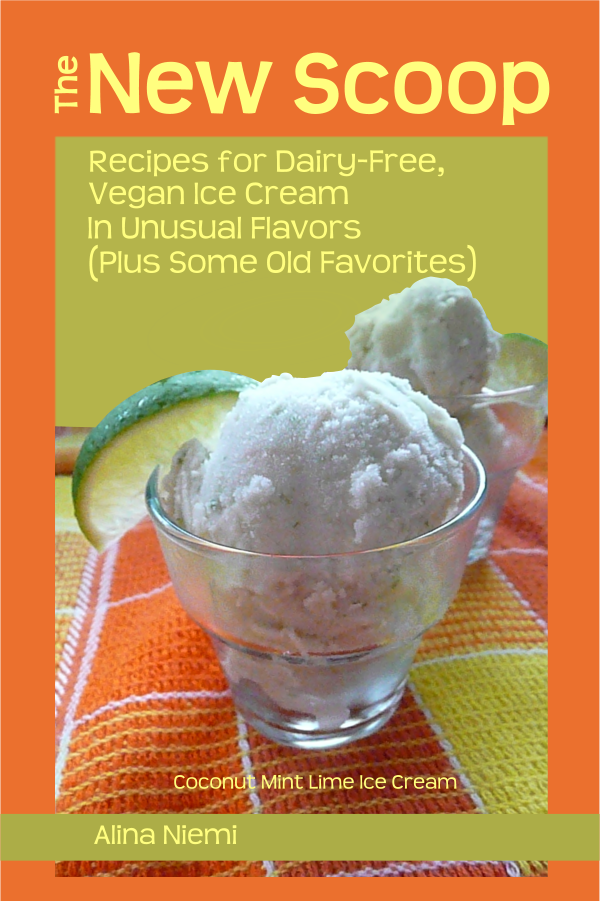 Are you avoiding dairy products because of health, environmental, or philosophical reasons? You don't have to pay expensive prices for mediocre vegan ice creams.
You can make your own ice cream, sherbet, sorbet, and frozen yogurt easily at home. You don't even need an ice cream machine, although I highly recommend getting one. The texture is hugely improved, and it's less work on your part. You can even get a workout if you buy a hand-cranked machine!
(I have a Cuisinart ICE-21 Frozen Yogurt-Ice Cream & Sorbet Maker
and LOVE it.)
Find recipes for old favorites, like Mint Chocolate Chip Ice Cream, Pumpkin Ice Cream, and Chocolate. But you will also get a whole range of more unusual flavors to try, including tropical fruit flavors like Pineapple Mint Sherbet (a tester favorite), Mango Frozen Yogurt, and Coconut Mint Lime Ice Cream.
There are also flavors from Asia, like:
Korean Pear Ice Cream
Azuki Ice Cream
Lychee Ice Cream
Banana Lassi Frozen Yogurt
Green Tea Ice Cream
And if you are even more adventurous, try some unusual ice cream flavors, from all over the world, such as:
Corn Ice Cream
Tomato Basil Ice Cream
Prune Ice Cream
Blackberry Apple Frozen Yogurt
Carrot Apple Coconut Curry Ice Cream
Most of the ice cream recipes are soy based, although some are coconut or nut based. Sherbets use any kind of milk, including nut, grain, or seed milks, such as soy, rice, oat, or hemp. Sorbets use no milks at all.
Be the boss of your ice cream!
Back Cover: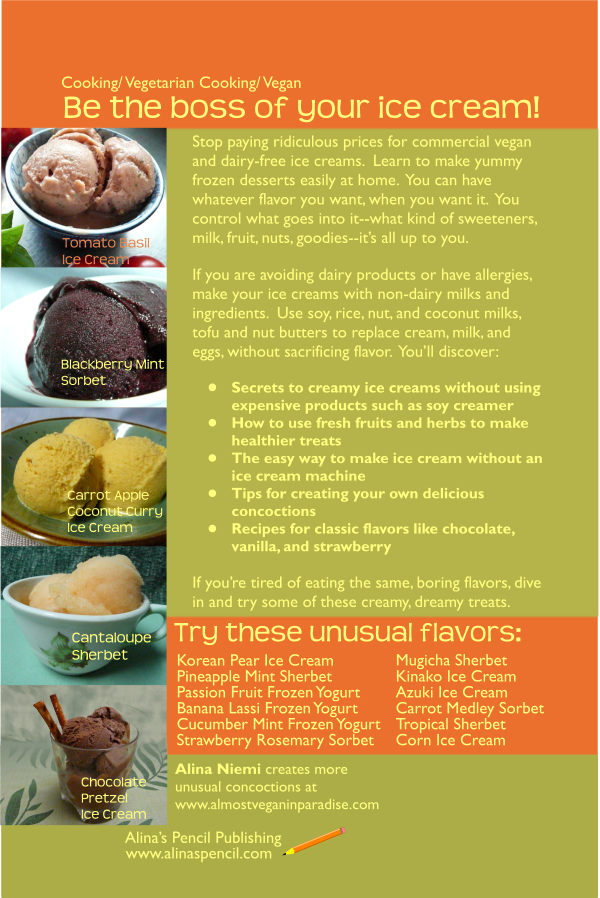 ---
If you are interested in getting an ice cream machine, I highly recommend this one:
Cuisinart ICE-21 Frozen Yogurt-Ice Cream & Sorbet Maker
It is electric and works with a frozen canister that you can keep in your freezer, so you can make ice cream whenever you feel like it. You plug it in and let it do the work.
My favorite spatula for making ice cream
This spatula has a stiff, straight edge that works perfectly for cleaning out the inside of the ice cream maker canister without scratching it. You can also use it to scrape the ice cream base out of the blender and into the machine.
---
Disclosure: I am affiliated to the products recommended on this site.